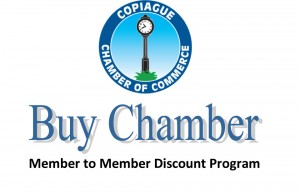 The Copiague Chamber of Commerce is committed to helping its members cut costs and save money whenever possible in an ever changing economic environment. Buy Chamber is a tool for Chamber members to save money on products and services offered by our members. Buy local from our Chamber members first, and save!  
Your Employees benefit – discounts can be passed along to your employees, as they are Chamber members too!
If you would like to participate in the "Buy Chamber" program, please fill out the form below.  All discounts will be posted on our website under the Members Only section and will be updated regularly.  You must login to access the Members Only pages.  If you do not know your password, you can request a new one.